The new Illinois SAFE-T Act plans to eliminate the current cash bail system. It will overhaul Illinois' criminal justice system and will begin to set arrested criminals to be set free.
The criminal justice reform law, Public Act 101-0652, the SAFE-T Act, states the use of cash bail will be eliminated beginning January 1, 2023. The new act will restrict who can be arrested.
After January of this year, a judge will no longer order upfront payment of bail bond for criminal defendants arrested and will no longer have to post cash to get out of jail to be released.
How It Affects Citizens
Safe-T Act reform eliminates cash bail and would mean freedom for many people currently locked up who can't make bail. According to Eye Witness News 7, "Today, I can arrest him if you sign a complaint for trespassing," Grundy County Sheriff Ken Briley said. "January 1st, I'm not going to be able to do that. The law says I have to write him a ticket and leave."
"Anyone sitting in jail right now with all these pending charges, they're going to be let out," Johnson County Sheriff Peter Sopczak said. "The gates are open and they're going to be let out onto the streets."
As reported by Rockford Register Star
Under the new law, entire categories of crime, such as aggravated batteries, robberies, burglaries, hate crimes, aggravated DUIs, vehicular homicide, drug induced homicides, all drug offenses, including delivery of fentanyl and trafficking cases, are not eligible for detention no matter the severity of the crime or the defendant's risk to a specific person or the community, unless the People prove by clear and convincing evidence the person has a "high likelihood of willful flight to avoid prosecution."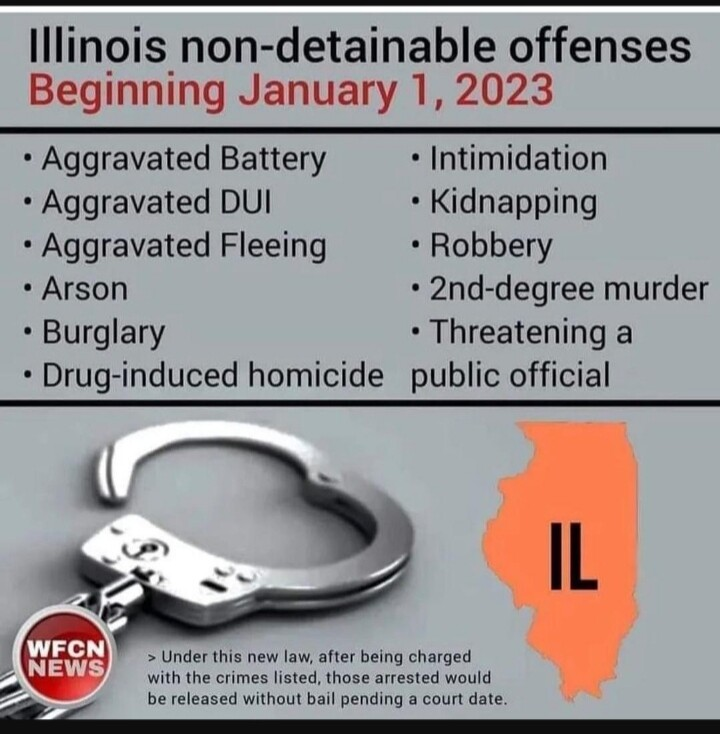 Sherriffs and the community are concerned because, after January, citizens may take matters into their own hands.
What's Next?
The reform act has left many concerned deputies, police officers, and citizens scratching their heads and wondering why the decision has been made to allow such a change in criminal apprehension.
According to reports, the reform advocates believe that keeping people locked up because they can't afford bail — is wrong.
The bill reportedly passed with the support of upstate lawmakers.
There are 102 counties the SAFE-T Act will affect.